Apr 07, 13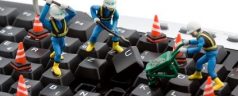 The computer market is changing rapidly and prices are extremely competitive, so it may be time for you to let go of your old workhorse and move up to a newer model. Before you let go of your old computer, though, there are some steps you should take before transferring or donating it to a new owner.
If you are going to donate your computer, the wisest course of action would be to send it to a refurbisher. The refurbisher will make sure the computer is in good working order, install any applicable upgrades and make sure that any programs installed are legal copies.
If you want to sell electronics online, there are many sites to choose from.
read more