The World's Greatest Magicians: Our Top Picks
There's always something thrilling about the world of magic. Few can really do it, and those that pull it off go onto become mega stars, touching down in Las Vegas for huge residencies that earn them millions of dollars.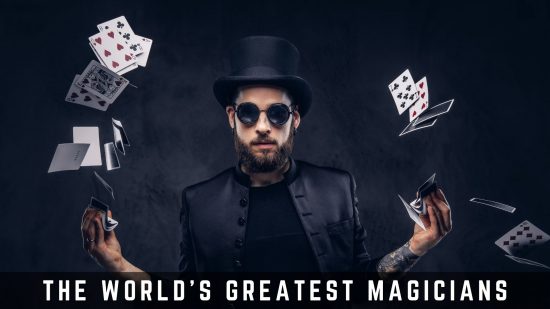 Created in Canva.com
There's something between casinos and magic that really do work together. There's a mystique to the slot game, just as there is a magician's secret, while the common denominator between the two is of course playing cards. But while anyone can go and play casino games like casino777 blackjack or fly to Las Vegas, not everyone can predict your card or even make it disappear.
And for most top magicians, that really is base level stuff. Everyone has a favourite, but who are the best of all time?
David Blaine
David Blaine moved on significantly from treating people to card tricks and minor illusions, and went into the world of elaborate endurance stunts and extreme performing, breaking records as he did so.
The New Yorker's most recent stunt came in 2020, in a stunt he called Ascension. This involved floating in a cluster of 52 helium filled balloons out in Page, Arizona. He managed to reach a height of 24,900 feet above sea level, before he let go of the balloons and parachuted safely back down again.
Other stunts have involved living in a box for 44 days in which he didn't eat but only drank water, while he's also been "Drowned Alive" in a stunt where he was submerged in eight feet of water for seven days.
Penn and Teller
Penn and Teller are true greats and have been performing in Las Vegas for many, many years. They're the most famous duo on the planet when it comes to magic and have been performing together since the mid-1970s.
Almost every night they're out on stage thrilling crowds who have come in from the casino floors after hours of enjoying casino games and their show at The Rio is the longest running headline show in the same hotel in Vegas history.
They're much more light-hearted as performers than others and their trademark is often the "trick gone wrong" but bringing it back to something mesmerising. Among some of their more daring tricks have included Teller hanging upside down on a bed of spikes and Teller being run over by an 18-wheel tractor trailer, but of course he lived to tell the tale.
David Copperfield
Another Vegas stalwart is David Copperfield. He's presented magic since the early 1970s and is still to this day thrilling crowds. He's been nominated for a total of 38 Emmys, winning 21 while he's also been labelled as the most commercially successful magician in history by Forbes.
That's earned him 11 Guinness World Records down the years as well as a star on the Hollywood Walk of Fame. In fact, he's also been named a Living Legend by the US Library of Congress and even has a knighthood from the French government!
Interestingly, he was the partner of Claudia Schiffer for five years in the 1990s and would saw her in half on stage occasionally, while he's also produced a number of iconic illusions that have been featured across his many television shows. At 65-years-old, he's far from finished too and has announced a number of plans for illusions he'd love to complete, including carving a woman into Mount Rushmore and making an island vanish.
They sound incredibly grand and it could well be the final hurrah for him if he achieves it, going out in real style.