Bread Made From Beer
Homemade beer bread
We got this  interesting receipt from Zesty cook. Its homemade bubbly beer bread. Its pretty simple to make. No yeast, No rising, simply dump in the ingredients – give it a mix and drop it in the pan.
This bread would be ideal to go along with a nice hearty stew or even along side a nice pasta dish.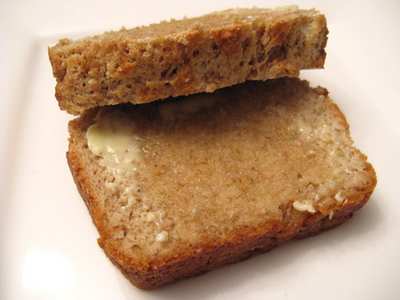 Ingredients
1 1/2 Cups White Flour
1 1/2 Cups Whole Wheat Flour
4 1/2 Tsp. Baking Powder
1/3 Cup Brown Sugar
1/4 Cup Butter (Melted)
12 Oz. Beer (you can use whatever kind you like)
Method
Preheat oven 375 degrees F.
Mix all dry ingredients together.

Add beer and mix thoroughly until dough is still.
Place dough in a lightly greased loaf pan.

Drizzle the melted butter over the top

Bake until golden brown (approx. 60 minutes).
Remove from oven and let rest for 15 minutes.

Thats it, enjoy!

Zesty Tip: Sifting flour for bread recipes is a must. Most people just scoop the 1 cup measure in the flour canister and level it off. That compacts the flour and will turn your bread into a "hard biscuit".  If you do not have a sifter, use a spoon to place the flour into the 1 cup measure.
So there it is… possibly the easiest loaf of bread I have ever made. Beer bread.
Zesty cook home page: http://zestycook.com