Buy Her a Perfect Diamond Engagement Ring
Buying an engagement ring can be a huge and very difficult task. There are many questions alongside the enormous pressure once you decide it is the right time. This ring is a symbol of your love and devotion for your wife to be, and it's also sign that you want her beside you for the rest of your life.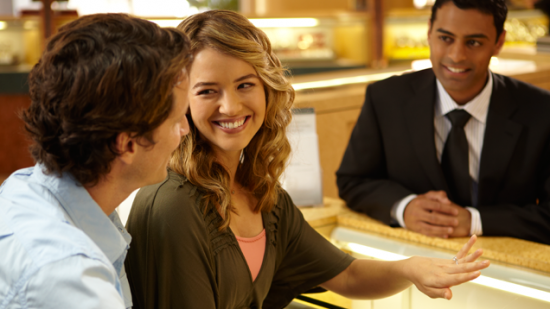 Once the ring in on her lovely hand you'll know that your relationship is going to the next level, and in more or less time that girl is going to be your wife. For many of you, this will be your first encounter with jewelry, and it can be very difficult if you don't have any experience whatsoever. First visit to the jewelry store can be very haunting because you'll need some answers for many of unknown question. So, what you'll need to know about buying her a perfect diamond engagement ring?
What's Your Budget?
Primary object you'll need to focus on prior to the jewelry store visit is to establish a budget. It will be a crucial assistance for the jeweler to be familiar with your price range. Many of you have some old diamond rings from your family, and if they are out of fashion, and not usable in this occasion, the good option is to sell your diamonds at Diamond Whisperer so you can expand your budget. If you set your mind on proposing, do not on any circumstance delay your question, especially if you lack of funds. Sometimes a modest ring can be a recall later in your life of the persistence and perseverance when it comes to your never-ending love.
What kind of jewelry she like?
No one knows your girlfriend better than you, so you will know is she more for classic approach or a little bit modern when it comes to her style? Is she feminine or more sophisticated? One of the most important question is does she wear more silver or gold? When you covered all of these questions is much easiest to step in to the jewelry store. You can go wrong if you buy something she already likes.
What's her size?
Even if you know her style and her preference it's not going to serve the purpose if you don't know perfect size of the engagement ring for your girlfriend. It can be very awkward when you get down on one knee and try to slide the ring of her hand without success. Sneak you way to her jewelry box and pick the one she wear very often, trace the inner circle on a piece of paper and you'll have enough information to pass on jeweler.
Engagement ring settings
Basically there are four types of engagement ring settings:


Solitaire – Solitaire rings have one single diamond. Model of this modern form is the solitaire Tiffany Setting which was launched by Tiffany & Co. in 1886 and featured the first mount which holds the gemstone with six claws. Diamond solitaires are a classic engagement ring choice. By far the most popular choice is the round brilliant-cut, but each shape has its own special charm.


Sidestone – Rings with a larger diamond set in the middle and smaller diamonds on the side fit under this category.


Three Stone – Three-stone diamond engagement rings, occasionally called trinity rings or trilogy rings, are rings with three similar diamonds set parallel in a line with the larger stone placed in the center. The three diamonds on the ring are usually said to symbolize the couple's past, present, and future.


Pavee – The main stone is bounded by small diamonds to add sparkle and the illusion of greater size.