Lambo Lotto Win Review
As you have probably notice, there are a tons of new dapps all around the crypto currencies these days. One of the most popular platform for them is Tron, but there are a lot of movements on other platforms like Steem, EOS, ETH… Most of the casino/betting websites are similar, but there are always few exceptions that try to innovate with additional type of games or earning revenues.
Today we will talk about Lambo Lotto Win website which is a combination of casino/betting/fomo website with a large amount of earning possibilities. Let's start from the beginning. Every crypto casino has it's own token and in the case of Lloto it is called LLGT (Lambo Lotto Game Token). You can buy it directly at the website for the shown price. The catch is that price is getting higher every time that 250k tokens are sold and difference between sell and buy price is around 20%. So, generally, if you buy your coins now, you will break even after next 500k tokens sold (if we just look at that earning possibilities, but it is not the only one).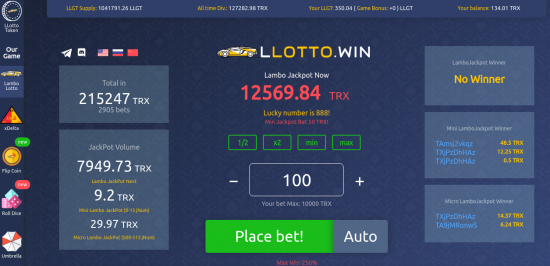 As long as you own LLGT tokens you are eligible to earn dividends (money that visitors lose while playing games on website). And there are a lot of interesting and unique games at the website. If we put on a side possible winnings while playing games, you also "mine" LLGT tokens while you are playing them. So, even if you lose, you getting tokens that can bring you additional revenue of dividends.
Best for the last. The games on website. You can play some of the classic games as Roll Dice or Flip Coin. Xdelta game is something very similar to TronBet Ring where you bet on a colour (in this case you are betting on multiplier on dice). You can play Dice 21 where the goal is to score the most points in the game without going over 21. Also, there are a games called Pig Dice, Umbrella and Lambo lotto. And two games are coming soon: LCR and Battleship which will be player vs player games.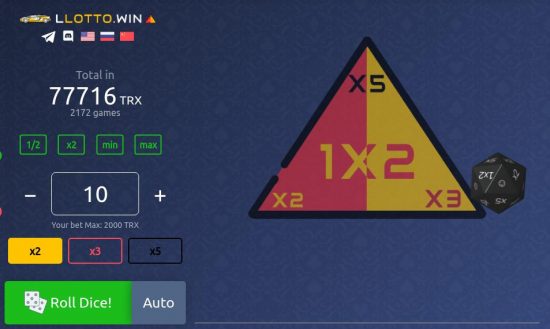 A lot of games and excitements are coming in our way and the most important is that this website is really young at the moment and in my opinion very undervalued. Developers are active at Telegram and Discord.
And for the end. I am only a gamer and "investor" at this website and I am not involved in it's development. Be cautious with every gambling/betting/money investing website and invest only that you can afford to lose.
If this article helped you and you would like to join Llotto, I would be grateful if you use my referral link for registration: https://llotto.win/?ref=TKAKxioi2Fg6J7s7gCUzgpPFqSK4fqNRuq
This post is also published on my Steemit page: https://steemit.com/gambling/@cryptofiloz/lambo-lotto-win-review