Five Ways To Play Free Online Bingo
We all know how the saying goes – nothing in life is free. Even if a good or a service is offered up to you as 'free', you're often expected to make a voluntary donation or are benefited from in some other way.
You could try and apply the same logic to online bingo, but you'd be foolish to think that there is absolutely no way to enjoy free bingo games and even win real cash! There are so clever ways to reap the benefits of free bingo that we felt inclined to let our readers in on a few of the top ways to enjoy free bingo games without jumping through dozens of hoops.
1. Play 'for fun' bingo
Yes, we know it might seem as an overly obvious way, but one of the very best things you can do for yourself if you are just starting out in the exciting world of online bingo is to seek out websites that offer bingo just for fun, no frills and no strings attached. This way to play free bingo won't see you win any mega jackpots that could buy you a Porche or a Spanish villa, but it's the perfect way to hone your skills before you dip your feet into the 'grown up pool' that is real money online bingo.
And even if you never plan to move on to real money online bingo games, 'for fun' free bingo offers you a good chance to socialise with fellow beginners and gets you off to a gentler start in the world of online bingo. Plus, you also get to observe what the paying players are doing during the same game, except you don't get to take home the winnings. Play for the game!
2. No deposit bonuses
The next best thing after 'for fun' games are no deposit bonuses, which allow you to join an online bingo site, claim some free cash and spend it all on checking out that particular site and its games – absolutely for free! We know, there is nothing in life for free, but trust us that no deposit bonuses are the next best thing.
After all, you don't have to commit any of your own money when you're playing this type of free bingo, so there shouldn't be a single worry in your head about losing money. No deposit bonuses are also a great way to scope out a new online bingo site, allowing you to vet the rooms, the types of bingo on offer and to see if the prizes are up to scratch, only then deposit own cash.
3. Claiming/winning free tickets
There are loads of ways to win free bingo tickets and thus play free bingo. With so many online and mobile bingo sites out there, brands must differentiate themselves from each other and they often do that by dishing out free bingo tickets. Obviously, you can play some free bingo games with these and win real money – it's a winner situation for you as a player!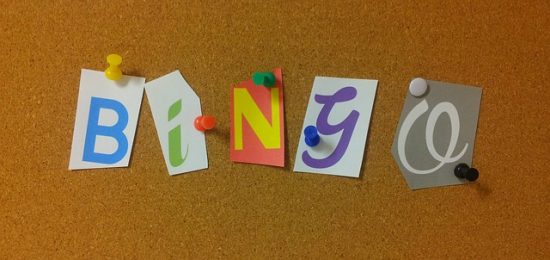 You can also win free tickets by participating in special promotions, sweepstakes, chat competitions and various other methods. For example, we recently ran a competition to win free bingo tickets if you voted for us in the WhichBingo Awards 2017. If you regularly check all of your favourite sites and check out their promotional pages, you'll be sure to never miss another free bingo ticket, ever again!
4. Free bingo games
Sometimes, online and mobile bingo sites compete for your business by offering all of their registered players to participate in regular free bingo games. Of course, the costs of the prizes and the running of such games are assumed by the site itself, so it's not a given that a particular online bingo site that you're a part of will offer such a good deal. The free bingo games can run daily, weekly or at any other intervals; you must keep an eye on the promotions page of your online bingo sites.
So, we'd advise you to always been on the look out for sites that advertise their free bingo games – it's their prized possession after all, plus a way to lure in players old and new to play on their site. Naturally, the prizes of such free bingo games aren't as big as they are when players purchase their own tickets for actual money, but it's still worth a shot – you might get something for nothing!
5. Deposit bonuses
Last, but not least, if you are in the business of spending a little of your own money to enjoy free bingo in return, then we'd suggest that you don't shy away from deposit bonuses. Of course, they're not as free and as good of a deal as no deposit bonuses, where you have to put none of your own money on the line, but it's still good cash to play free bingo.
The normal scenario is that you're offered a deposit bonus when you make a deposit at an online bingo site, e.g. a 200% bonus on a £10 that you put in. This means you deposit a tenner and get a total of £30 to play with – meaning the £20 difference reaches your casino account as a balance to play free bingo games.
Deposit bonuses won't be the right way to access free bingo for all, but if you really love a site, spend a lot of time on there and want to have a way to play free bingo, then investing a little to play triple the amount of free bingo games is really not a bad way to go forward.