Top 10 Bad Santa Clauses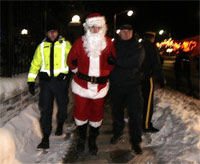 'This the season to be jolly, greedy, lecherous and absolutely, undeniably unfit to set foot in public. So, in honour of the holiday season, here are thirteen crimes committed by guys in Santa suits; from bank robberies to mall flashers to child molesters. Merry Christmas.
1. Santa with Sunglasses Successfully Robs a Bank
Watch the full news report for the awesome, awesome story.
A man in a Santa suit robbed a bank successfully. He was wearing the beard, hat and suit, even the boots, according to witnesses.
Witnesses say the entire time, he seemed clumsy and jovial. The best part? This guy stayed in character the whole time. He told everybody he was doing this because he needed to pay off the elves. How fun.
The only serious thing about this was the part when he said if there were dye bombs in the money, he would come back and kill everyone.
2. Santa Child Molester Stalks On The Internet
If Dateline NBC's "To Catch A Predator" had a Christmas episode, this guy could've been the star.
So here's what happened: The creep went on Yahoo Instant Messenger, found a profile that said it was a 13-year old girl, solicited her for sex, arranged a meeting time and place, went to said place, and got arrested because it turns out the profile was a cop in disguise. Just like in Dateline NBC's "To Catch A Predator"!
Here's the creepiest kicker: he was a shopping mall Santa for many years. Imagine, just imagine the number of children that sat on his lap over the years as he secretly wanted something he'd later actually act on.
Santa's lap will never feel safe again.
http://thecabin.net/news/local/2010-05-28/%E2%80%98shopping-mall-santa%E2%80%99-arrested-internet-stalking-child
3. Santa Attacks 74-Year-Old Woman with a 2×4
It's always a good idea to never piss off a Santa when you see one, especially if you've just stolen $145 worth of Hershey's Kisses from him.
At least that was the excuse the perpetrating Santa came up with for physically attacking a 74-year old woman with a 2×4 wooden board at a mall. He was so enraged at this woman when she allegedly stole $145 worth of Hershey's kisses from him that he knocked the poor woman unconscious with one blow to the head (using, once again, a freakin 2×4.)
When another woman came to her aide, he quickly threatened her too.
He quickly fled when he figured out mall security was going to get him, that he wasn't the actual Santa Claus and that he wasn't above the law or something. He tried to get rid of his Santa costume in order to dispose of the evidence. It's too bad for him that he was seen doing so and got caught and arrested on sight.
http://abcnews.go.com/US/CrimeBlotter/story?id=354660&page=1
4. Man in Santa Suit Flashes Teens His Mistletoe
It's that simple. Some guy dressed up as Santa walks into a mall and then he drops his pants in front of a couple of teens. And then he pulls them back up again until he finds another victim and then he drops his pants again.
He did this multiple times before mall security finally had to intervene and then asked him to leave. His response? He dropped his pants again, this time to a couple that was walking in. Aaand that's what got him arrested.
Mall customers were shocked to learn that this guy didn't even work for the mall because, c'mon, who really cares about mall patrons other than people seeking revenge?
The scary part was there seemed to have been no reason for this guy's action or no motive. He just acted on impulse, which will probably get him off with a psychological disorder plea. Either way, this flasher (who is strangely reminiscent of the antagonist in that dark Seth Rogan mall comedy Observe and Report) will definitely not be showing anyone his jingle bells anytime soon (at least not by his choice.)
http://www.clickorlando.com/news/5482200/detail.html#story
5. Santa Claus Robs The Bank Again
So this Santa robbed a bank in the beautifully appropriate town by the name of St. Nicholas, Florida.
That in of itself deserves the top spot on this list.
Anyway, so he walks into the bank, shoots a warning shot at the ceiling with his semi-automatic and gets away with the money in his "reindeer pulled sleigh" that is known as a silver, four-door car. Amazingly enough, police are still out looking for Santa because it's apparently one of the best costumes to commit a crime in. It leaves a lot to the imagination, people impose their own vision of Santa on the costume and, most importantly, it hides every single defining feature the body has while still looking non-threatening until a gun is pulled.
Let's hope he is eventually apprehended like the Santa in the picture shown here.
http://www.news4jax.com/news/26035638/detail.html?source=key
6. Santa Gets Drunk in Public, Harasses Children
So after coming home from a party of some sorts, this man dressed up as Santa pulls over and stumbles into someone's backyard. The kids that were playing there immediately had suspicions this guy was a fake, probably because he didn't come through the chimney and, more importantly, he was walking around the yard shouting loudly at them about having lost his reindeer. No joke. Well, at least no intentional joke.
He tried to be all jovial and Santa-like a bit later when he walked up to one of the kids and tried to put his hat on her head, but since he was a drunk middle-aged man, it didn't come across so much "Santa-like" as "creepy," so the watching mom called the cops.
Luckily there was no damage done to Santa's reputation that day in the eyes of the kids. They immediately figured out this Santa was an impostor because according to them, "he smelled like alcohol."
The jury's still out on what exactly the fact that they know what that smells like, and that that means "bad", says about their childhood.
http://www.ksdk.com/news/world/story.aspx?storyid=191853
7. Drunk Santa Caught Urinating in Parking Garage
What does Santa do after a hard day's work at the mall (assuming that is the mall's parking garage and not some other establishment)?
He drinks himself into a cozy stupor, of course!
Literally, he does.
And you can it check it out at 1:48 right after he gets knocked over by surprised strangers stepping out of the elevator.
The other golden moments come at 0:18 when he pees on the garage wall and at 0:39. That one you just have to see for yourself.
8. Santa Accidentally Kidnaps 8-year Old Girl
Santa rides a motorcycle in this one and there is a stuffed Rudolph the Red Nosed Reindeer in the sidecar. Awesome duo.
So awesome it attracted the attention of a girl when Santa pulled over at a gas station. Asking her if she wanted to see the Rudolph, Santa then hoisted the girl up, put her in the sidecar, and drove off with, all of this happening with her parents watching.
When the father caught up with Santa after speeding like hell to get to her, Santa prompt apologized and turned the girl over. His excuse was that he was caught up in Santa mode and that the Santa in him had taken over for a moment. The family forgave him.
http://www.wrdw.com/home/headlines/4967576.html
9. Eco-Activist Santa Arrested For Delivering Coal to Coal Execs
It's arguable that delivering coal is the least beloved part of Santa's job, probably for both him and the world (mostly due to the soul-crushing disappointment involved). But perhaps he should stick to giving coal to bad children instead of adults, which is what happened with this particular story.
Santa arrived at the office of the CEO for the Tennessee Valley Authority, North America's largest purchaser of coal, and crashed a board meeting, telling each of the board members present that they were getting a lump of coal not because they needed it, but because they were bad children.
Why? Apparently Santa was receiving letters from children who tearfully explained that the coal companies were ruining the forests they played in, along with making the air unbreathable.
There is something heroic about a childhood icon taking a stand for environmental rights, but unfortunately, his actions got him arrested immediately when he spoke at the meeting.
The saddest part is that the only crime he really committed was not bringing a camera crew with him. Had he had that resource, he'd be winning awards instead of trying to scrape together bail money.
http://itsgettinghotinhere.org/2008/12/11/santa-arrested-for-opposing-mountain-top-removal/
10. Santa Brings Presents Only To Steal Money
In Papua New Guinea, Santa pulled off the ultimate heist. The plan was perfect: dress up as Santa, act all jolly, hire an elf to carry a bag of presents, infiltrate tight security by convincing them you are there to deliver presents to the office staff, get in, and then pull out your gun and rob everyone in sight.
That's exactly what happened as a guy in a Santa suit convinced security he was going to deliver Christmas presents.
Too bad they never checked the bag his elf was carrying, walking in or walking out. As soon as Santa got to the office, they locked up the doors and emptied all of the staff's account money. And then they just walked out of the building, past security, with the money all to themselves, leaving an entire nation shocked. Ocean's 11 style.
http://www.heraldsun.com.au/news/breaking-news/santa-claus-pulls-out-gun-robs-office-in-papua-new-guinea/story-e6frf7jx-1225963737775
Via Ranker.Com
Learn more about العاب بنات، العاب تلبيس بنات جديدة. Al3ab banat jeuxneww at www.jeuxneww.blogspot.com
It is so pleasant to work with experts. Learn more to find out more regarding letterpress business card.

The professional company bodystar provides all the information on Creatin.

aceshowbiz made a real revolution in the industry.

Visit http://www.cheapescort.ru to find out more regarding escort models moscow

Find all the info that you need about " male enhancement pills vitanaturalisproducts " at http://www.vitanaturalisproducts.com