Converting Your Website to a Mobile Version
If you have a website for your business, it is a great idea to also create a version of it that has been converted for use on mobile devices. Many people now use their smartphones or tablets more often than they use their desktop or laptop computers to surf the Internet, so having a mobile website can really boost your company's visibility and make your business easier for people to learn about and locate.
Getting Ready for the Switch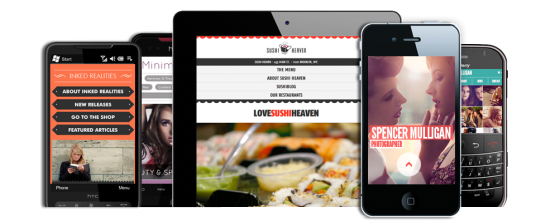 Before you begin, plan your design by considering the changes that you'll have to make for your mobile version. You won't be able to include as much content on each mobile site page, so you'll need to divide and prioritize each section. If you are creating a business website, the mobile version should definitely make your days and hours of operation, location, and contact information a priority on the mobile homepage. This way, if customers search for a business like yours while they are out running errands or looking for a particular type of product or service, they will immediately be able to tell where you are located and whether or not you are currently open. They will also be able to contact you if they need to call to see if you have a certain product or service available. This can really boost your business and help you attract new customers and retain current customers, so be sure that your pertinent business information is the first thing that people see on your new mobile website.
Creating the Mobile Site Yourself
Thanks to the help of mobile advertising, you can easily make the transition by yourself, without hiring anyone to help you and without any experience in web design. For the best result, find a template that allows you to import content from a pre-existing website. Then you will already be off to a great start since you can import the content from your regular business website. Once you have done this, the template will allow you to make changes and customize various factors of your site so that the mobile version looks great and works well. Make sure that you test the mobile version every time you make changes so you can tell which edits you should keep and which ones you should discard. If you divided information in the planning stage, the template will help you create additional tabs and pages where you can now place that information. Your mobile site doesn't have to have less information that your regular site has; it will just be organized differently and there will be less content on each page, so that the pages all load quickly for mobile viewers.
No matter how your original website was created, whether you hired a professional or not, you can create the mobile version yourself in very little time as long as you have the right tips and tools. Just make sure you test everything and that all the features of your new mobile website are in working order before you launch it.