Are The New Orleans Saints Poised To Repeat As NFC Champs?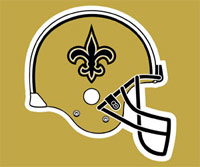 After the first month of the season, not many people thought that the New Orleans Saints would even be in this position. The odds makers, casual fans and experts that do Super Bowl gambling @ BetUS and examine the lines much earlier in the season than the rest of us, didn't think it would happen.
The Saints, who are the defending Super Bowl champs, were just 4-3 after their first seven games. The bigger concern was that two of their three losses were inexcusable, losing to the Arizona Cardinals and Cleveland Browns.
But to find the next Saints loss you'd have to fast forward a couple of months to December as the Saints pulled off a six-game winning streak in between and are now back in the playoff hunt.
The Saints have all but clinched a spot in the playoffs and now the questions shift towards the Super Bowl. Can they do it again?
This season has been very different for New Orleans, but it may have prepared them for a second straight run. They've dealt with injuries galore and had to learn about walking around with a big bulls-eye on their back as every opponent gunned to beat the Super Bowl champs.
And now that they have handled all of that adversity, they might be ready to flex their muscle one more time.
If there's something that the Saints have learned during a trying 2010 season, it's that execution is the key. No matter what else happens, if they can execute better than their opponent, they can win.
When you consider that only one other team that played in the NFC playoffs last year will return to the postseason this year, the Saints have a leg up. And considering their experience from last year combined with growth from this year, the Saints just might be poised for another Super Bowl appearance.