10 Significant Diamond Producing Countries
Article by Gall Raimon
Large Diamonds LA
International diamond buyers understand that each country that has diamond mines offers unique forms of gemstones. This article will take you on a journey, through countries including Russia, Canada and South America, to discover the diverse types of diamonds that are on offer, including different coloured and different sized diamonds. The top 10 diamond producing counties in the world stand out with different characteristics and industry types, and gemstones that are unique to the regions that they are found in.
Canada
Canadian diamonds are highly sought after because of their ethical value. Many countries that deal with diamonds around the world are torn apart by war and violence, and they produce blood or conflict diamonds that are still beautiful but ethically low in value. Canada is different and, in addition to non-conflict diamonds, they produce gemstones that are mined with sustainable practises.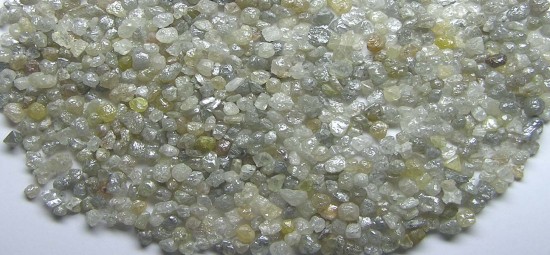 Angola
South Africa is a strong producer of diamonds, including the country of Angola, which started mining diamonds early last century. The Cuango Valley is home of Angola's greatest alluvial mining operation, the Luzamba project, and the areas of highest diamond concentration are the Lunda Norte and Lunda Sul provinces.
Namibia
Diamond mining started in Namibia early last century, including an area which is appropriately named 'Fairytale valley'. Its discovers were amazed to find an almost endless number of diamonds across the ground that could be gathered by hand, or by using simple handheld tools. The local region is now also a tourist attraction for its surrounding national park and geological features.
Lesotho
Lesotho is famous for a series of large diamonds that have been found in the region, including The Lesotho Promise which was one of the largest diamonds ever found. Brilliant and beautiful, this diamond was white and graded as D. The Lesotho Brown, Star of Lesotho and Letseng Legacy were also impressive finds for a country that produces diamonds so large they are greater than 10 carats.
Brazil
The largest red diamond ever found was discovered in Brazil by a farmer in the region of the Abzetezinho River, and it is called the The Moussaieff Red Diamond. Its triangular shape is coloured brilliant red and it is internally flawless, making it extremely expensive, along with the other red diamonds that are found in this country.
Russia
Popigai Astroblem in Siberia is a 35 million-year-old asteroid crater that is only a recent discovery, but that has given Russia the world's largest diamond reserve. Trillions of carats can be found in the crater that will be able to supply the world with diamonds for the next several thousand years. These diamonds are especially hard in their formation, which makes them highly suitable for industrial and scientific purposes.
Botswana
Botswana is on the watch list of diamond traders as while they are the world's largest supplier of diamonds, they have only been providing rough diamonds until recently. Now, their industry is growing and developing as they cut, polish and sell their own diamonds locally for international distribution.
Australia
The Argyle diamond mine, in Australia, is the greatest supplier of pink diamonds in the world. They are extremely rare and are valued at over twenty-times the price of standard white diamonds. Australia also produces red diamonds, which are also an extremely rare entity.
South Africa
A very rare blue diamond was found in recent times, in a diamond mine in South Africa. The 29.6-carat stone was discovered by the company Petra Diamonds within the Cullinan mine. This is near the region of Pretoria. South Africa is highly prominent for diamond discoveries and sales in general, and is one of the world's strongest traders.
The Democratic Republic of Congo
Cognac and jonquil diamonds are popular and come from the The M'bugi Mayi region in The Democratic Republic of Congo. Various colours of diamonds can be found within the mines of Congo, including orange diamonds which are becoming very expensive because of their scarcity.