Top 7 Craziest Russian Videos on Youtube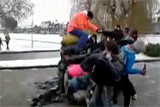 We decided to prepare you an unforgettable experience and show you ten craziest Russians videos:
1. Bungee Jumping Russian Style
2. Crazy Russian 5-story roof jumps into snow
3. Awesome Garbage Can Explosion
4. Crazy Russian Student
5. Vodka – Drunk russian student
6. Russia in 15 seconds
7. Only in Russia
loading...