10 Most Expensive Watches
What are the most expensive watches at the world? Continue with reading and you will find it…
1. The 201-carat Chopard – Price: $25 million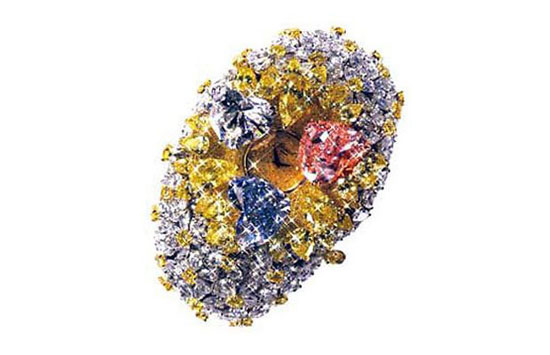 Twenty-five million dollars? Yes, The Chopard 201 carat Watch is the most expensive watch in the World. Twenty-five with six zeros. It's made of a 15-carat pink diamond, a 12-carat blue diamond and an 11-carat white diamond. It seems to be Buried and hidden beneath the cluster of gems and colorful stone pieces. They also used some white gold and some yellow gold, and, of course, 163 carats of smaller diamonds, coming to a total of 201 carats. It is surrounded by three heart shaped diamonds all of different forms and different colors from each other.
2. Patek Philippe Supercomplication – Price: $11 million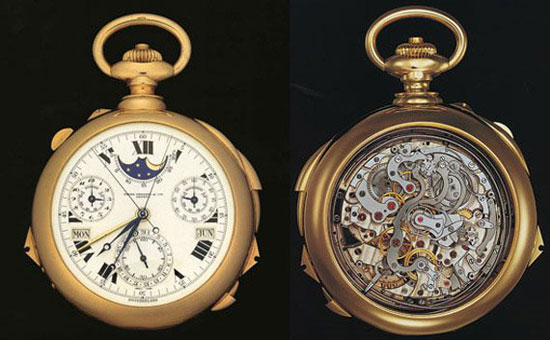 As the name suggests, this Patek Philippe watch came to known for its super complicated functions and working mechanism, including the 24 separate complications. The watch was designed by Patek Philippe for New York banker, Henry Graves. Graves was in competition with his fellow watch collectors to own a watch which had the most complications in the world. The watch has been created with 24 carat yellow gold, has a 74 mm thick diameter, 36 mm glass cover and 2 faces which display the 24 complications of the timepiece. It took Patek Philippe over five years to design and manufacture the 900 parts that make up this watch.
3. Patek Philippe Calibre 89 – Price: $6 million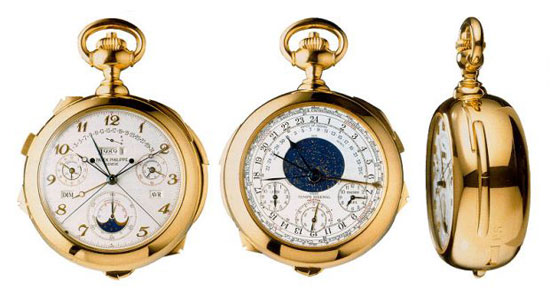 In 1989, Patek Philippe created the Calibre 89 Pocket Watch to celebrate the company's 150th anniversary. It wasn't just a simple pocket watch. Declared by Patek Philippe as "the most complicated watch in the world", it weighs 1.1 kg, exhibits 24 hands and has 1,728 components in total, including a thermometer and a star chart. It includes no less than 1,728 components and took Patek Philippe five years of research and four years to manufacture. The chassis was made with 18K yellow gold, and contained 332 screws, 129 rubies, 429 mechanical parts, 68 springs, 24 hands, 184 wheels, apart from a secular calendar with phases of the moon being indicated separately. Four watches were made: one in white gold, one in yellow gold, one in rose gold and one in platinum.
4. Louis Moinet Meteoris – Price: $4.6 million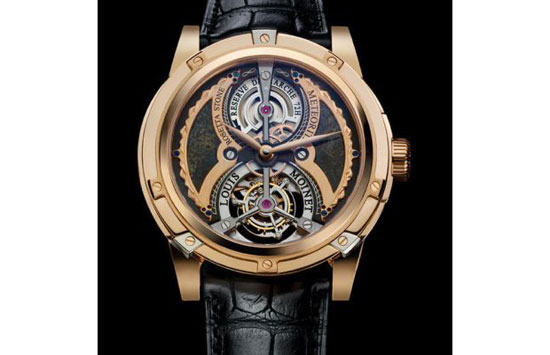 It may look like a lot, but considering the series comes in a set of four tourbillion watches, the price isn't that bad. The Louis Moinet Meteoris Watch is made with one of the most amazing and unique idea. Each of the watches have dials made of out-of-this-world materials, such as meteorite from Mars, the moon, an asteroid, and an ancient meteorite called "Rosetta Stone." He teamed up with Meteorite hunter Luc Labenne to collect pieces from the moon, a Mars meteorite, and an asteroid. When you buy the set, you get a complimentary planetarium that depicts the solar system. It is a lot expensive master piece indeed but still not a bad price to wear such a cool watch of moon your wrist.
5. Piaget Emperador Temple – Price: $3.3 million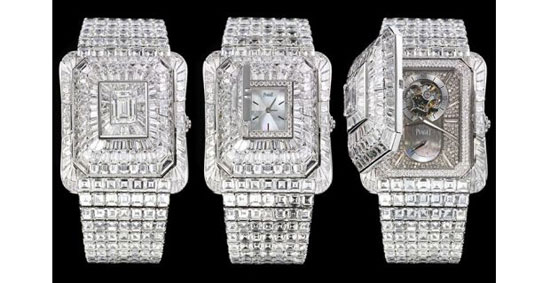 The Piaget Emperador Temple is, as we call it, fully iced. It is the most beautiful splendor of the modern watch creation technology. Essentially two-watches-in-one, one face is concealed by in a case covered in 481 brilliant-cut diamonds, 207 baguette-cut diamonds, and an emerald-cut diamond. And that's just the first part of the case. The second part of the case, containing another watch now with a tourbillion, has a dial made of Polynesian mother-of-pearl and is set with 162 brilliant-cut diamonds and 11 baguette-cut diamonds. The bracelet itself holds 350 diamonds of its own. The watch was a one-of-a-kind and was gone as soon as it was released.
6. Cartier Secret Watch with Phoenix Décor Watch – Price: $2.75 million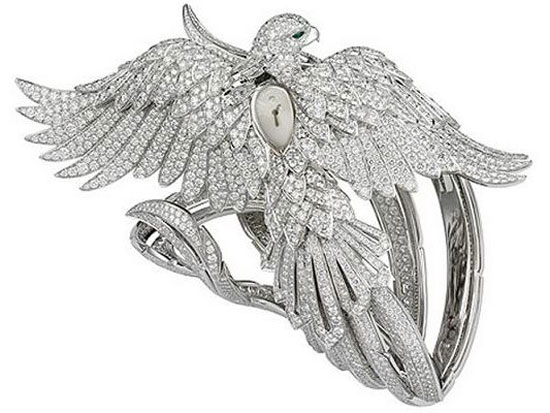 Cartier Secret Watch with Phoenix Decor is another beautiful watch with a lovely bracelet. A one-of-a-kind Cartier wristwatch shaped as a phoenix is created from 18-carat rhodium-plated white gold and set with emeralds, brilliant-cut diamonds and one pear-shaped diamond weighing 3.53 carats. More than 80 carats of diamond are used on this timepiece. Embedded with more than 3,000 brilliant and beautiful diamonds it the most beautiful yet a lot expensive watch too.
7. Franck Muller Aeternitas Mega 4 – Price: $2.7 million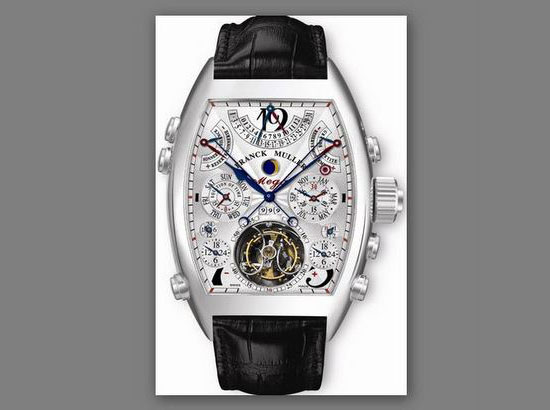 For a mere $2.7 million, you can buy the Franck Muller Aeternitas Mega 4 Grande Sonnerie Westminster Carillon. The Aeternitas mega 4 Watch is the best essence of Watches ever created by Frank Muller brand. It's a mouthful, but consider this is the most complicated wristwatch in the world. With so much of a complicated design and look of the time piece it is also one of the expensive watches around. It is said to be the most elaborated watch ever made in the world. It features 36 complications and is made of no less than 1,483 individual components. This complicated watch has now replaced the Patek Philippe Caliber 89, which previously held the title of the world's most complicated watch. It is not only simply beautiful but it comes with almost 3 extra time zones and with a 999 year calendar and amazing chime rings after every hour makes it the best watch ever.
8. Parmigiani Fleurier Fibonacci Pocket Watch – Price: $2.4 million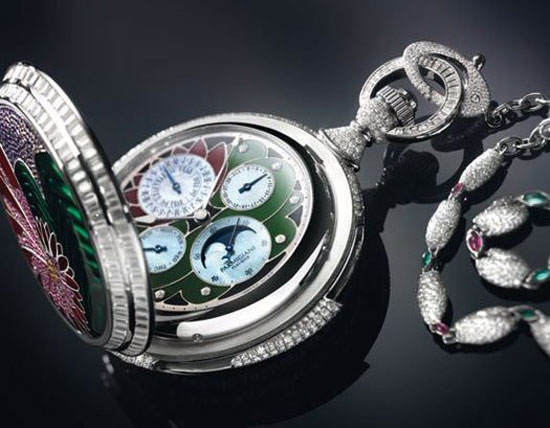 The Fibonacci Pocket Watch also consists of sparkly diamonds with mother of pearl counters and is named after a great Italian Mathematician Leonardo Pisano after which it is named. This pocket watch is made by Parmigiani Fleurier. It has a minute repeater with cathedral gongs (it chimes to tell the time) and a perpetual calendar. With a bit of look of feminine taste rather than normal watches, the Fibonacci Watch features a beautiful lotus flower at the front with a gold dial and cathedral chimes make it cooler. This pocket watch takes two years to manufacture.
9. Patek Philippe reference 2499 First Series – Price: $2.3 million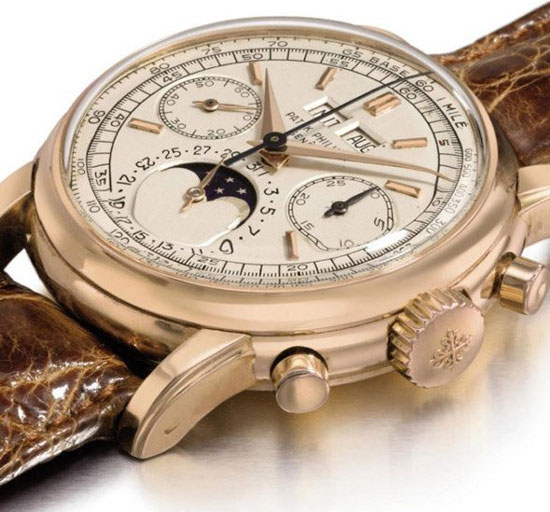 Again, a Patek Philippe. But this one is made in rose gold rather than stainless steel. Introduced in 1950 the Patek Philippe reference 2499 has a well-deserved reputation as one of the greatest watches ever created. So this proves it's also smart to hang on to rose-gold watches you inherit. It might just be a rare one like this reference 2499 limited edition of only five pieces. It replaced the celebrated reference 1518, the world's first perpetual calendar chronograph made in series. This Patek Philippe watch has a 18-karat yellow gold and 23 jewels with an estimate of only five in the world.
10. Patek Philippe Model 1591 – Price: $2.25 million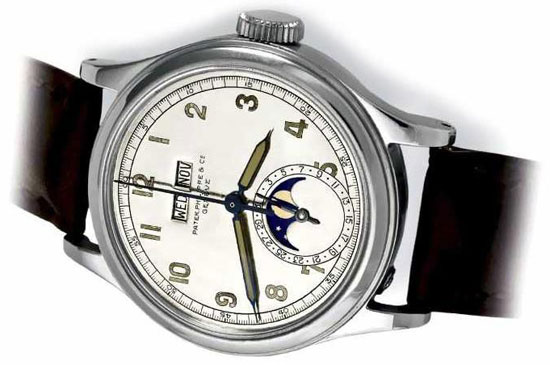 It's the most expensive stainless steel wristwatch, and is one of two that reportedly exist. This one was made in 1944, but wasn't widely-known about until it went to auction in 1996. This normal-looking watch was sold at an auction for well over $2 million. If you ever inherit a Patek Philippe in stainless steel, then you'd better take care of it. Patek Philippe watches in steel are rarer than their siblings in gold and therefore fetch incredibly high prices at auctions.