HardBass – Funny Street Dancing in Eastern Europe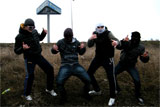 So called "Hardbass" is funny street dancing popular with youth in Ukraine and Russia. The point is to start dance in public and that everybody can join you. No special skills in dancing is needed 🙂 Watch the videos.
Check also Top 10 Craziest Russian Videos on Youtube.