World's craziest restaurants
UNUSUAL AND CRAZY RESTAURANTS
For centuries, restaurants have been making the same fiscal error time and time again: serving delicious food at reasonable prices. Truly a recipe for fiduciary disaster. Here at least are ten restaurants that understand, to truly make a profit in the food business, you want to guarantee your patrons eat as little as possible, then get the hell out. It's called "high turnover." Ask an economist.
Modern Toilet Restaurant – TAIWAN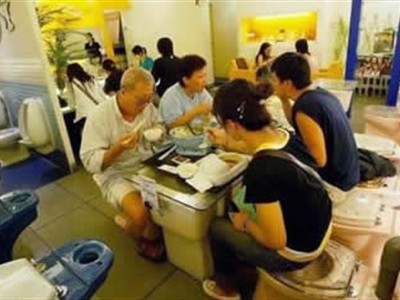 Have you ever heard of people eating out of a bathroom toilet and having great fun? A restaurant named Marton Theme Restaurant, in Kaohsiung (Taiwan) has a toilet theme and is a great hit among people. The restaurant has a bathroom decor, with colorful toilet seat being the standard chairs at the restaurant. It also serves food in plates and bowls shaped like western loo seats and Japanese "squat" toilets. Customers sits by a tables converted from a bathtub with a glass cover while looking at a wall decorated with neon-lit faucets and urinals turned into lamps. The restaurant is named after the Chinese word "Matong" for toilet and is doing really well. The owner Eric Wang says "We not only sell food but also laughter. The food is just as good as any restaurant but we offer additional fun. Most customers think the more disgusting and exaggerated (the restaurant is), the funnier the dining experience is." The meals are cheaply priced with a meal set including soup and ice cream costs from 150 to 250 Taiwan dollars ($6 – $10).

For Cannibals  – JAPAN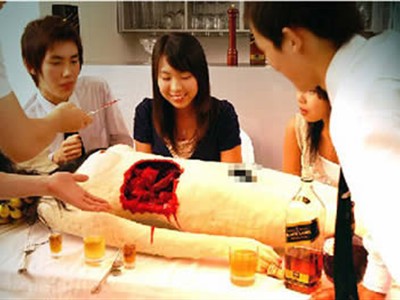 "Nyotaimori" (which literally means "female body plate") is the name of the japanese restaurant that serves sushi and sashimi on a naked woman's body. The body is made from food and placed on an operating table, much as though in a hospital. You can "operate" anyway and anywhere you want by cutting open the body and eating what you find inside. The body will actually bleed as you cut it and the intestines and organs inside are completely editable. It's a banquet of Cannibalism.
In the Sky – BELGIUM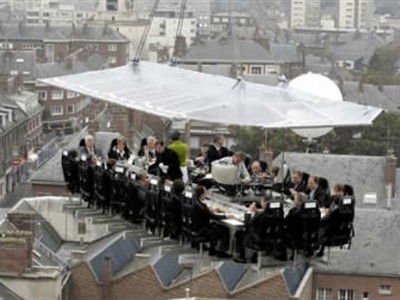 "Dinner in the Sky" is a Brussels based restaurant that serves dinner for up to 22 people… 150 feet in the air! The specially-designed table and chairs are lifted by a crane. Dinner anywhere in Belgium will set you back almost 8 thousand euros; other locations are also available. Remember, you must wear your seat belt, and don't drop your fork!
Complete darkness – CHINA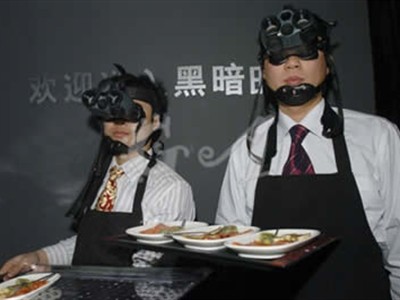 The first dark restaurant in Asia is officially opened on the 23 December 2006. This restaurant, located in Beijing, China, has its interior painted completely black. Customers are greeted by a brightly lit entrance hall and will be escorted by waiters wearing night vision goggles into the pitch dark dining room to help them find their seats. Flashlights, mobile phones and even luminous watches are prohibited while in this area.
The meal will be taken in this environment with the complete loss of vision. By starving one's sense, your other senses are stimulated to full alert "all so the theory goes" and your food will taste like it's never tasted before. In case you are wondering about the washrooms, they are all brightly lit.
Graveyard Restaurant – INDIA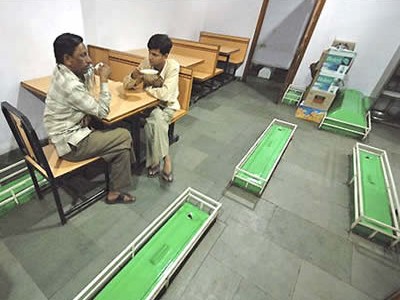 The bustling "New Lucky Restaurant" in Ahmadabad is famous for its milky tea, its buttery rolls, and the graves between the tables. Krishan Kutti Nair has helped run the restaurant built over a centuries-old Muslim cemetery for close to four decades, but he doesn't know who is buried in the cafe floor. Customers seem to like the graves, which resemble small cement coffins, and that's enough for him.
"The graveyard is good luck," Nair said one recent afternoon after the lunch rush. "Our business is better because of the graveyard." The graves are painted green, stand about shin high, and every day the manager decorates each of them with a single dried flower. They're scattered randomly across the restaurant – one up front next to the cash register, three in the middle next to a table for two, four along the wall near the kitchen.
Prison – ITALY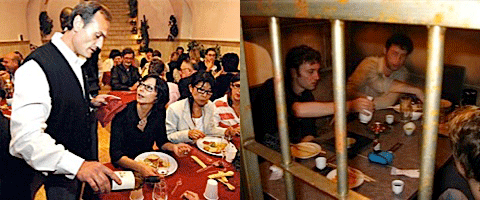 A restaurant situated inside the top security prison Fortezza Medicea in Italy is so popular that officials have since opened more branches. Serenaded by Bruno, a pianist doing life for murder, the clientele eat inside a deconsecrated chapel set behind the 60ft high walls, watch towers, searchlights and security cameras of the daunting 500-year-old Fortezza Medicea, at Volterra near Pisa. Under the watchful eye of armed prison warders, a 20-strong team of chefs, kitchen hands and waiters prepares 120 covers for diners who have all undergone strict security checks. Tables are booked up weeks in advance.
Undersea Restaurant – MALDIVES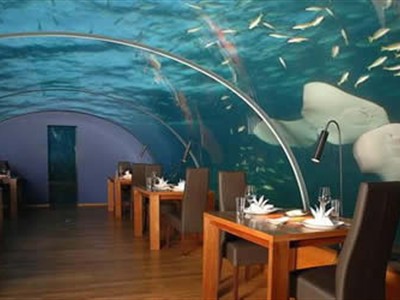 The first-ever undersea restaurant in the world has been introduced at the Hilton Maldives Resort & Spa in April 2007. Ithaa (which is pronounced "eet-ha" and means "pearl" in the language of the Maldives, Dhivehi) sits five meters below the waves of the Indian Ocean, surrounded by a vibrant coral reef and encased in clear acrylic, offering diners 270 degrees of panoramic underwater views. This innovative restaurant is the first of its kind in the world, and is part of a US $5 million re-build of Rangalifinolhu Island, one of the twin islands that make up Hilton Maldives Resort & Spa. This re-build includes the construction of 79 of the most luxurious beach villas in the country as well as the Spa Village, a self-contained, over-water "resort-within-a-resort" consisting of a spa, restaurant and 21 villas.
Condoms- THAILAND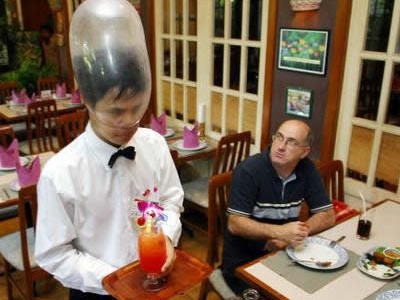 "Cabbages and Condoms" is a chain of restaurants in Thailand. There are condoms on the walls and pictures of condoms printed on the carpets. Instead of after-dinner mints, patrons are offered a bowl of condoms at the counter. Profits from the restaurants go to support the Population and Community Development Association (PDA).
Medical Restaurant – TAIPEI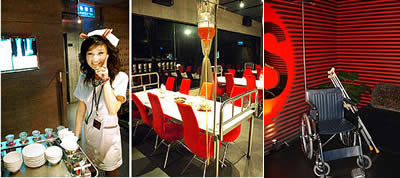 D.S. Music Restaurant in Taipei, Taiwan is a medical-themed restaurant with crutches on the wall, waitresses dressed a nurses, and drinks served from an IV drip bottle! The owner came up with the idea to express his gratitude for care he received at a local hospital.
Buns and Guns – LEBANON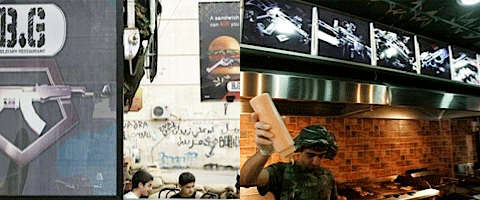 For the love of God, GET DOWN! Ba-CHKOW! JESUS CHRIST! It's…a turkey sub on French bread. But what's that on the side?! GRENADES!!!!! Wa-BOOOOOOOMers! Grenades means potato wedges.
It's that kind of playful double entendre that makes Buns and Guns the premiere Hezbollah-themed fast food chain in Lebanon. After a lengthy battle with competing chains Burgers and Lugers, Khomeini's House of Schwarma and Fuck Israel!, Buns and Guns became known nationwide as the "home of the AK-47 Kalashnikov" which you may be perplexed to learn is a beef sandwich.
And at Buns and Guns, it's not just the item names that get your adrenaline pumping. They've gone all out to provide a dining experience as akin as possible to fighting for your life on a bomb-scarred battlefield in the DMZ. Special touches include chefs sporting battle helmets, sandbags out front, and menu items like the "Claymore" pizza, topped with peppers, onions, mushrooms, olives, corn and tomato. Pull one of the gooey slices away and watch as vegetarian entrails slop off onto your camo tablecloth! KaBLOOEY! Just don't step on it!
And to make your dining experience all the more visceral, all Buns and Guns establishments play a continuous loop of rifle fire, mortar fire, and explosion sounds to eat by. And if any of the wait staff happen to have Post-Traumatic Stress Disorder, who knows what kind of exciting outbursts that could elicit? It's the only restaurant in Lebanon guaranteed to seamlessly integrate into your daily routine of being bombarded with mortar shells.
The motto says it all: "A Sandwich Can Kill You." Drop in today to find out how!